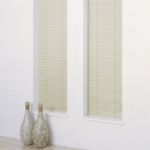 Venetian blinds in Great Lever are a stylish yet functional window dressing. These blinds consist of horizontal slats that you can tilt at an angle you choose. This allows you to enjoy the view out the window or to control the amount of light into a room. These blinds can also lift as any other blind. Wood is typical in the manufacture of Venetian blinds. However, they are also available in aluminium and faux wood too. Regardless of the type of material, a Venetian blind is an excellent choice for your home.
For excellent light control and privacy for your home in Great Lever, Venetian blinds are the ones to choose. Furthermore, these blinds are easy to open and close, allowing you easy access to direct sunlight or complete privacy. Another excellent plus point of Venetian blinds is that they are easy to maintain. Many other types need removal from their fittings for cleaning. However, with Venetian blinds, simply wipe them down with a damp cloth and they'll look as good as new. Venetian blinds are durable and will last for years. As they are typically wooden blinds, you can expect years of attractive looks and use. Venetian blinds are classy and elegant – perfect for every room in your home.
We offer a broad range of top quality Venetian blinds in Great Lever. For more details about how our team can assist you with your new blinds, contact Bolton Sunblinds today. In addition, our Venetian blinds are child safe. As they're available in PerfectFit® frames, they offer child safe features for your peace of mind. Furthermore, our Venetian blinds are also available in a stunning range of colours. This ensures that you'll find the perfect blinds to match your home's décor. In addition, our Venetian blinds are available in different size slats. These include widths of 25 mm, 35 mm and 50 mm slats. Each of these comes with a matching bottom bar and head rail. Best of all, our prices are highly competitive – you can be sure to find the perfect Venetian blinds for your home at a fabulous price.