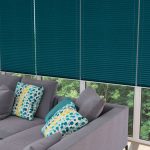 Pleated blinds in Ainsworth are perfect for your small or medium sized windows. We are the leading window fashion experts in the region. Our friendly, family-run business has a top reputation for affordable rates, premium quality and superb customer satisfaction. We have recently updated our website and we're sure that you will find more information on our products and special offers. You will be happy to know about our No Quibble Five Year Guarantee on parts and manufacture.  If you're planning to replace your old blinds or create a new decorative theme, we have a comprehensive range of products. They range from elegant and traditional to quirky or contemporary. Whatever the design, you can be sure of the quality of materials and fitting.
For your orangery or conservatory in Ainsworth, pleated blinds are a great choice. They are popular mainly because of their simplicity, ease of operation and versatility. Thus, they are the perfect option when you want something that's a little different. Further, they are very easy to install, and our professional team of installers will complete the job in a jiffy. If you want them to be even easier to operate, why not add an electronic operation. Remote control blinds are the very latest shading solutions in the market. All our blinds have a guarantee to be child-safe, and they protect the safety of your kids, guests and visitors. Clients who live in rented or leased premises find this the best option. There is no difficult drilling or fitting. Further down the line, when you want a change of décor, you'll find these blinds easy to replace.
You can raise or lower pleated blinds in Ainsworth to open or cover a part of your window. Thus, they have a convenient self-locking system. Hence, this prevents them from opening or closing accidentally. Thus, the smooth operation is what most people love about pleated blinds. Additionally, they are great for non-standard windows with unusual shapes, as well as standard windows. Contact Bolton Sunblinds for more information on our services and products. We care about your comfort, taste and budget. We're happy to be a part of your own personal interior decoration theme.