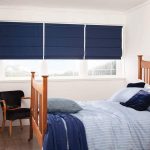 Choose from a fabulous selection of bedroom blinds in Tyldesley for your home. Window blinds add an attractive touch to any space. For your bedroom, our blinds let only the right amount of light into your room. When you visit us, you can choose from wood, bamboo, fabric or other type of material. Furthermore, you'll also have a large choice of colours, patterns and accessories to decide on.  If you need advice or guidance, our experts have the experience and industry knowledge to assist. It doesn't matter what type of blind you choose for your bedroom, we're happy to assist you with your final decision.
Our team has many of experience in helping customers make the perfect choice. Furthermore, in Tyldesley, bedroom blinds provide excellent privacy control. In addition, they're great for light control. For just a little light in your room, you can adjust the blinds halfway. As such, you'll still receive more than enough light, along with the privacy you need. Our professional team designs and makes all our bedroom blinds. In fact, we offer a 5-year guarantee on all our products. And, our bedroom blinds are an affordable choice. Blinds are one the most cost-effective window treatments available today. You can also choose from a range of fabric to ensure your new bedroom blinds match your decor, perfectly. Another plus point of our blinds is that they are easy to maintain and keep clean.
For the best bedroom blinds in Tyldesley, remember our team. We are proud of our excellent reputation for providing top quality products at highly competitive prices. Contact Bolton Sunblinds right away to find out more about our stunning bedroom blinds. Or, better yet, pay us a visit at our showroom to view our selection of bedroom blinds. A local firm since 1968, we continue to uphold our excellent reputation for quality products and prices. Much of our business stems from referrals from past happy clients. Our blinds will make a world of difference to your bedroom in so many ways.