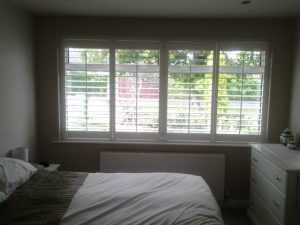 If you are looking for plantation shutters in Lostock, contact us at Bolton Sunblinds, where our family team has more than 40 years experience with shutter supply and installation. The fact that the vast majority of our business comes from customer referrals and that we offer a 5 year guarantee bares testimony to the confidence our customers have in our services and products. If you are thinking of installing plantation shutters, we are more than happy to answer any questions you may have.
For example, a customer in Lostock looking for plantation shutters wanted to know a little more about the origins and functions of these shutters. While they are associated with, and derive their name from, the homes on the cotton plantations in the southern states of America, these shutters actually can be traced back to Greece and Medieval Europe. These window coverings have been used to ensure privacy, control light, allow air flow or improve ventilation, reduce dust and even to improve security. Despite how long these types of shutters have been in use they have recently enjoyed renewed popularity, especially here in the UK. This is thanks to their elegant look, the multiple benefits and advantages they have always offered, the fact that they are low maintenance and that the materials they are now available in are very durable and possess insulating properties. Because the louvres in the shutters can be angled they can be closed to keep heat in during winter and out during the summer months. Any material that has insulating ability has the added advantage of reducing your heating bill.
If you too are looking for plantation shutters in Lostock, our professional consultants will do a survey of your windows with a view to fitting these stylish, practical shutters. For a no obligation appointment call us at Bolton Sunblinds today!