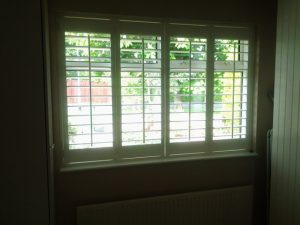 Plantation shutters in your Atherton home will bring many advantages you may not have thought of. Plantation shutters are gaining popularity because not only are they aesthetically pleasing, but they also offer great light management, airflow control, and insulation. Their most important advantage is that they can be designed to fit any type and size of window.
In Atherton plantation shutters — and advice about whether this is the best option for your home — are easy to find.  Bolton Sun Blinds is frequently asked for suggestions when it comes to installing these window and door shutters. Experts at Bolton Sun Blinds recommend that large windows should be fitted with wide slats, while small windows be fitted with small width slats. They also suggest that the width of the slat will also depend on the importance of the view outside. Naturally, if you install wider slats, you will have more viewing space than if you install small width slats. The tilt rod can also be custom mounted. Typically, a single tilt rod is positioned vertically in the center of every panel. This can be changed to mount on either the right or left edge of the pane. Other features to consider are light strips and hinges. Light strips are installed at the edges of inside mounts. These help to limit light that may enter from the sides. Hinges are installed inside grooves, in order to reduce the space between the edges of slats and window frame.
If you are thinking about installing plantation shutters in Atherton, consider those from Bolton Sunblind Centre. Not only do they offer a wide assortment of window blinds, but carry an excellent variety in other window treatments such as shutters, and curtains. For more enquiries about plantation shutters, or any of their other products and their related costs, please contact Bolton Sunblinds directly at 01204-303-939 or take a trip to the website to find out more.