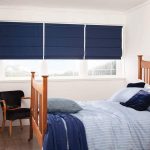 Find the perfect bedroom blinds in Farnworth at Bolton Sunblinds. We are proud of our reputation for providing window-dressing that's of excellent quality, priced sensibly and gives you the best value for money, without compromising on the latest trends and technology. Our family run business maintains strong ties in the local communities we serve and that's probably why most of our business comes to us via recommendations from customers who have been 100% satisfied with our products and services. No matter how big or small your project, we're delighted to provide the best advice and assistance.
With a bewildering choice of blinds available in the market today, it's not easy to make a decision. In Farnworth, bedroom blinds are chosen for many reasons – privacy, light control, aesthetics, and style. In most homes, windows provide a focus point in the room and the blinds that are chosen must combine beauty and functionality. Window treatments should also offer safety via cordless options and motorised wands. Our talented team at our showroom offers a detailed consultation with clients where they understand the needs, preferences and budget of the customer. It's important to keep the fact that you're looking for bedroom blinds as top priority. This means you need something relaxing and pleasant. Bedrooms are your sanctuary and me-time spaces where you can express your personality best.
While choosing colours for your bedroom blinds in Farnworth, select a soothing palette of calm, cool shades that reduce stress and help the room to look more spacious. We would be happy to help you choose the perfect bedroom blind, so why not contact us today? A favourite hue with many people is lavender. It looks opulent and classy without being overwhelming or intrusive. Muted shades of green and blue are also ideal choices for bedroom blinds. They provide tranquillity and peace especially for those people who have trouble falling asleep. You can also use deeper shades of green and blue in prints for your soft furnishings, blinds and upholstery to provide character and interest. For extra light-control, pick blackout blinds, duet blinds or Roman blinds.  Vertical blinds provide more light and air, while Venetian blinds in wood look classy and expensive.