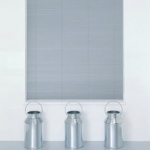 Find top quality Venetian blinds in Horwich when you want to add a special look to a room.  These increasingly popular blinds have become the blind of choice for many homeowners. There are a number of reasons for this, and perhaps the most notable is that they provide more control over your environment than most other blinds. The flexible nature of Venetian blinds means that they offer a generous amount of control over aspects such as privacy, light, view, and air flow.
If you are looking for stylish yet practical window coverings in Horwich, Venetian blinds are a great option. You'll be pleased to find out that they are versatile, easy to maintain, and above all, are inexpensive to purchase and install. Why not pay us a visit at Bolton Sunblinds if you are considering Venetian blinds for your home? You will be thrilled by our selection, and if you require it, we would be happy to custom make your blinds using the fabrics you choose. You'll also be pleased to find that our prices are budget friendly, and our knowledgeable team is more than happy to assist you. Our collection includes a versatile range of colours and designs. Our wooden Venetian blinds offer a warm natural feel to your windows, enhancing the chic factor to any room. Our blinds are also child and pet friendly, and include the Monowand which contains the control cord inside the tilting wand to remove any chance of strangulation.
Venetian blinds in Horwich are available in 3 slat sizes, 16mm, 25mm 35mm and 50mm slats. They are also available with a matching sculptured pelmet to cover the robust headrail. If you would like to find out more about our Venetian blinds on offer, be sure to contact Bolton Sunblinds today. All of our blinds are made to measure, according to exacting standards and the use modern machinery by a team of experienced blind makers. This has resulted in our confidence in offering a 5-year guarantee on all our products and any defect in materials or workmanship. Choose your new Venetian blinds with confidence at Bolton Sunblinds.