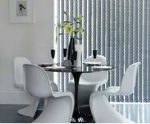 If you are looking for vertical blinds in Wigan, you will be pleased to discover that the best quality blinds can be found at Bolton Sunblinds. High quality vertical blinds are useful for keeping unwanted light from entering your space, such as blocking sunlight at a certain time of the day. Available in different fabrics and materials, vertical blinds can also be made to change the overall look and feel of any room in your home. Once installed, these blinds are easy to clean, maintain, and can be replaced if and when needed. We have an exclusive, durable range of vertical blinds. Why not pay us a visit as you are certain to find what you need.  Our knowledgeable and friendly staff will assist you with any queries you may have.
For your new window coverings in Wigan, vertical blinds are a practical and stylish choice. We are well known for our large range of versatile, high quality vertical blinds. Our blinds are designed under the guidance of skilled professionals and manufactured using only premium grade materials. Tested for safety, long life, and ease of usage, our vertical blinds offered are one of a kind. Choose your blinds according to your needs, such as the room size, type of fabric and colour. We also offer a first rate installation service so you can be sure your blinds fit perfectly.
If you are looking for vertical blinds in Wigan, consider advanced motorised options. Making use of effortless wand control and other advanced features, your vertical blinds are modern, easy to use and stylish, and importantly, safe if you have small children. With the wand control, there are no loose cords posing a danger.  Our vertical blinds are suitable for use in any room of your home, and these include conservatories. We are pleased to offer a range of exciting colours and patterns, from modern printed fabrics to faux suede, voiles and the more traditional woven jacquards as well as plain dim out and blackout fabrics. Contact us today for more information. With our vertical blinds, you are choosing a blind that is long lasting, aesthetically pleasing, and affordable!