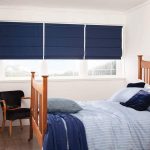 If you are looking for Roman Blinds in Whitefield, then Bolton Sunblinds is the place to go. Their wide range of traditional and contemporary designs is sure to add the desired flavour to your home, no matter what your tastes may be. Are you in looking to add a dash of style to your home? Let Bolton Sunblinds do the worrying for you. Their selection of trendy printed designs, woven jacquard fabrics, and delightful voiles are sure to come up with a fabric option that matches that of your dreams. They also offer plain designs for the more mellow-minded so that no home is left out.
If you live in Whitefield, Roman Blinds of great quality should be the last of your worries. Bolton Sunblinds has been catering to these particular needs since 1968, and have built a reputation of being a friendly family based team that goes over and beyond in their determination to offer the best possible quality and service. The community responds in kind: the vast majority of their business comes from referrals, and personal recommendations – a fitting tribute to years of effort and dedication put in by Bolton Sunbinds.
Should you decide to look for Roman Blinds in Whitefield it is always a good idea to go for dealers who have a great reputation as well as a proven track record of offering quality. Bolton Sunblinds boast of an absolutely stellar record, which is testified to by the high amount of referral business that they do. The fact that they have been able to maintain such a high standard since they first opened their doors in 1968 shows that they have the necessary experience in providing top quality service which each and every client desires. Why don't you contact Bolton Sunblinds today? They encourage you to go through their vast catalogue to see if you can find something that catches your eye. Then you can relax and let the fully trained staff take charge, expertly measuring and fitting your blinds. Unlike most companies in the UK that offer the same service, they offer a 5-year guarantee on all their blinds and fittings.