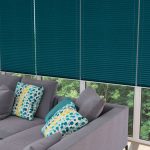 If you are looking for pleated blinds in Whitefield we can offer you a huge range of fabric that will suit everyone's taste. Blinds are so much more practical than curtains and give you a neat and polished finished. Many of our pleated fabrics have reflective backing. This allows the blinds to keep the warmth in the room in winter and to reflect some of the heat in summer. This attribute adds to your efforts in energy bill savings. Our pleated blinds in the Perfect Fit frames are one of our most popular styles for conservatories and orangeries. They can be cut to fit any shape of window and are extremely versatile. They provide excellent coverage for conservatory roofs as well as walls and ensure that you have complete privacy.
If you would like to add an air of sophistication to your home in Whitefield, pleated blinds in a luxurious fabric can help you. Our team of consultants are all highly trained to measure your windows to ensure a perfect fit. Our team of installers will quickly and efficiently fit your blinds and make sure they are working correctly. The Perfect Fit pleated blinds are safe around children and pets as there are no dangling control cords they can get stuck in. These blinds are stunning in their cool simplicity and can be used in all the rooms of your home. Our experienced consultants can help you with colour matching when choosing fabric to complement your decor.
We have one of the largest ranges of pleated blinds in Whitefield. Contact Bolton Sunblinds today or visit our showroom to see how new blinds can turn your home into a stunning showplace. We have many other styles of blinds that can be made for your own unique requirements. Romantic and soft roman blinds can turn your bedroom into a boudoir and roller or Venetian blinds can change the look and feel of a room. We also have a wide range of shutters that are extremely stylish and allow you to control the amount of light into your home while still providing the privacy you need.