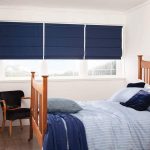 You may like the look of curtains but add bedroom blinds in Leigh as well. Combined with curtains or not, bedroom blinds give you control over the light in this very important room. We at Bolton Sunblinds know there are a few of you out there who open your curtains at night. You are the ones that like to awaken to the sun shining in and the bluebirds singing on your windowsill. Light and bird song will filter through some of our window blind selections and still afford you some privacy. Our Perfect Fit Blinds are an ideal solution because they fit inside the window frame without hardware. They leave your windowsill free for other things. Venetian blinds with the large horizontal slats or more delicate pleated blinds will work well too.
Our blinds are available in many fabric colours, patterns and designs. In Leigh, bedroom blinds that match your curtains is a nice professional decorator touch. For some, closing the blinds is not good enough; they don't want outside light to find its way into their room until they spin the wand themselves. Until then, only total blackout will do. We have blackout blinds for those customers. For some who work nights, they need a dark room for daytime sleeping. But the blinds are still attractive and easily worked into your design scheme. These blinds give you total control over the light in your room day and night. Choose from the Perfect Fit, Venetian or Pleated plus we have effective blackout roller blinds and Roman shades.
Your bedroom blinds in Leigh should give you the control you want over the light in your room any time of day or night. We have a huge selection from which you may choose depending on your window style, the blinds you like best and your budget. They look great alone or pair them with curtains. We have been making blinds for decades and providing complete customer care including fitting. Contact Bolton Blinds for the best bedroom blinds for your home. Some even have insulating qualities.  We offer a 5 year guarantee on parts and labour because we know our products are manufactured to high standards. If you're not satisfied with the quality we replace it; guaranteed.