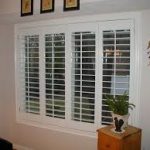 Plantation shutters in Parbold create a finished look for every style of decor. There has been a recent resurgence in using plantation shutters for homes and offices because they offer great versatility. Choose any colour, leave them white or opt for wood. Not all shutters offer such a vast selection as we do at Bolton Sunblinds. When you add plantation shutters colour matched to your window frame, the look is of one complete unit. They bring texture and interest to the room without losing the clean minimalist look. You can control room light by adjusting the louvres or block 90% of all light. Hot days when the air conditioning is running non-stop you can block the heat of the sun through the windows by blocking them with drapes. If you have Plantation shutters, you can allow shuttered light to filter through so you don't feel like a cave dweller.
Plantation shutters are ideal when you want natural light but there really isn't much you want to see outside the window. The solution to privacy without loss of natural light is, in Parbold, Plantation Shutters. We can't recommend those little do-it-yourself shutters you find at the hobby stores or even window treatment sections of home decorating shops. Those are not substantial enough for actual daily use and they look cheap. We will make Plantation blinds to your specifications at Bolton Sunblinds from quality material that will add substance to your room. Choose your colour and see what beautiful work our craftsmen create.
Our clients for Plantation shutters in Parbold get the best customer service available. At no obligation to you, we come to your home and measure your windows for shutters. You can view samples in your own home, visit our shop or both to get the look you want. Once your shutters are complete, we come back and professionally install the shutters so the fit is perfect. All mechanisms will operate easily and smoothly. If you want to catch the breeze without leaving your shutters open just raise the window and close the shutters. Adjust the louvres to let fresh air through. Contact Bolton Sunblinds for a free quote on Plantation shutters. They will look fabulous in every room of your home. We guarantee your satisfaction.