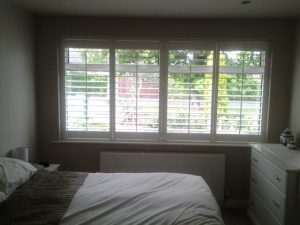 Are you looking for plantation shutters in Westhoughton? Plantation shutters are a very good choice. They are usually installed in kitchens, and they are a very desirable choice for homes, because they tend to raise the value of the property. This is due to their longevity. This style of shutters was first introduced to the Americas by the Spanish, and they were used on large plantation homes, which is where they get their name from. Today, there are many designs available. It's important to find a company that designs custom plantation shutters if you want them to fit perfectly.
In Westhoughton, plantation shutters from Bolton Sunblinds are tailor made and designed to fit your particular window frame. When you place an order, a specialist from Bolton Sunblinds will visit your home and survey your windows. Virtually any window style can have plantation shutters on it, so don't hesitate to ask for a survey, even if you don't think it's possible to have plantation shutters installed. Bolton Sunblinds will then design and install shutters that are easy to control and provide enhanced thermal insulation.
Bolton Sunblinds has a wide colour palette available for plantation shutters in Westhoughton. The company also offers curtains and blinds, and all products come with a 5-year guarantee. Bolton Sunblinds places an emphasis on quality products and services, which is reflected in the fact that 90% of the company's client base has come through recommendations. When it comes to child safety, you have a variety of options, most of them free of charge. You have cord tidies, which keep cords out of the reach of children, breakaway toggles, the ultrawand for Venetian blinds, the mono control, which removes the need for a control chain, and sewn in weights at the bottom of drapes. With Bolton Sunblinds, you will receive unparalleled quality in terms of service and products. Contact Bolton Sunblinds today if you want to find out more about plantation shutters.