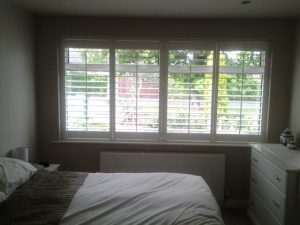 Bolton Sunblinds has bedroom blinds in Hindley to suit any lifestyle and design preferences. Do you like to wake to a blaze of sunlight streaming through your bedroom windows? Perfect Fit blinds from Bolton Sunblinds has a wide choice of fabric patterns and designs to compliment your bedroom décor. Perfect Fit blinds, made to fit firmly over the window, are easy to remove. They give the room an uncluttered look because they are fitted into the window framework. They do not overhang the windowsill and flap against the wood outside the window frame. There are no dangerous dangling cords hanging down. Our soft pleated blinds are adjustable. Close the blinds over the lower half of the window for privacy but leave the top open so the sun shines through.
In Hindley, bedroom blinds you prefer may be those that allow you to see the morning when you are ready. You might prefer a Roman blind in a rich colour and texture that will also serve as a blackout blind. That is perfect for day sleepers who want the windows covered in stylish fabrics and the minimalist look free of fluff. If your bedroom has long windows or a door to the outside, your sunblind will fit perfectly. In fact, no matter how oddly shaped a window you may have, our blinds are custom measured and made to fit by our superb staff.
You can design your own bedroom blinds in Hindley using the Eclipse Design Space feature on our website. The feature is fun and useful. You will be able to see exactly how the colours, patterns and styles will look on your windows. You can even order up to three samples free. When it is time to buy,we have experienced staff to measure your windows for a perfect fit and give you a quote that includes installation. Our team will custom make your blinds from fine quality products. After we have made your custom blinds, our fitters will hang them for you with no mistakes. All this comes with a five-year guarantee on products and workmanship. For more about bedroom blinds, contact Bolton Sunblinds.