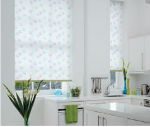 Get your kitchen blinds in Parbold from Bolton Sunblinds and you won't be disappointed! In many households, the kitchen is the hub of the home. A kitchen is a functional room where one cooks and eats. It is also a room where you can put your creative stamp and make it a unique room. As far as windows coverings are concerned, curtains are not always practical for a busy room. Blinds make the perfect window covering for a kitchen as you have a large selection of different types of blinds to choose from. They are all designed and made to meet the conditions of a busy kitchen.
Add your creative stamp to the busiest room in your home. In Parbold, kitchen blinds of many different styles, colours and fabrics are available from Bolton Sunblinds.  Roller blinds are among the most popular choice among home owners as a kitchen blind. They are stylish and simple and are available is a large variety of designs and colours. Roller blinds can be made from a choice of exciting fabrics, ensuring that your kitchen is your creative hub! Choose from Dimout and blackout fabrics, as well as many contemporary designs. Add a finishing touch like braids, scallops, finials and bottom rails or the ultra chic flora badges and eyelets, and you have a roller blind that is uniquely yours.
Kitchen blinds in Parbold are expertly and carefully y our skilled team. We are sure of our quality which is why we offer an unbeatable 5 year guarantee on all our products and fitting. If you are looking for kitchen blinds to add your unique touch to your kitchen, contact Bolton Sunblinds. Our roller blinds are also available with different child safe options that have an easy break chain and are spring loaded or an easyglide mechanism which doesn't have any control cords at all.We have provided an exceptional service to all our clients since 1968 and have built an enviable reputation for great quality and service. Change the look of your kitchen with unique kitchen blinds from Bolton Sunblinds!