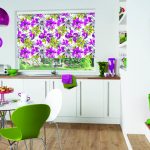 Kitchen blinds in Ainsworth are an excellent choice for a great new look in your kitchen. Curtains are not at all suitable for a kitchen. Some people don't bother with window coverings. However, you may want to block out excess sunlight and prying eyes. Thus, kitchen blinds are a great option. As a local firm, we take great pride in our wide range of top quality blinds, all perfect for your home or office. In addition, all our products are of the highest quality. You can be sure that the blinds you choose will fit perfectly. They also include a fabulous 5-year guarantee on all products and fittings.  On offer is a super range of fabrics for you to choose from. This means that you can add blinds to your kitchen that match your interior style and taste.
The choices are limitless. Hence, in Ainsworth, kitchen blinds are available in a range of different types. Roller blinds and vertical blinds are a popular choice for the kitchen. Furthermore, we can custom make our roller blinds to match your kitchen window's measurements. Hence, you can choose from an exciting range of fabrics so your kitchen blinds meet your exact preferences. Our highly popular roller blinds are easy to use. They have cord control as well as the spring loaded or the new easyglide system. This makes them easy to open and shut. In addition, there are a number of accessories you can choose from. These include poles, braids, scallops, finials and bottom rails. They also include gorgeous flora badges and eyelets. Each one of these is a way to add your own personal touch to your kitchen blinds.
Choose your stunning new kitchen blinds in Ainsworth from our expert team. Our experts can install them in your home too. This is because our efficient team has the training and the experience to both measure and fit your blinds perfectly. To find out more about the perfect kitchen blinds for your home, contact Bolton Sunblinds today. Furthermore, our roller blinds are available with many child safe options. These include easy break chain and spring loaded or the easyglide mechanism which doesn't have any control cords at all. With our gorgeous kitchen blinds, you can have a  new look kitchen!