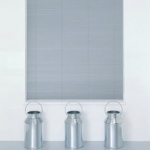 Few window blinds come close to matching the beauty of roller blinds in Horwich homes, especially when you are looking for a combination of design and functionality. Roller blinds are one of the most versatile forms of window blinds you can find, primarily due to their fabric-based structure. Fabric comes in many designs and colours so when it comes to matching the décor of your home, these roller blinds are really as good as it can get. Floral, striped, polka dotted and plain coloured patterns are extremely common in the roller blind world and the option of colours makes it even more flexible and amazing. To add to the design flexibility, you get some fantastic functionality as well.
In Horwich, roller blinds from Bolton Sunblinds come with a simple cord-pull action that is extremely easy to use. The process of rolling them up or down is made smoother with the use of either a spring loaded system, or an easyglide system. The Senses Roller system is a new form of rolling mechanism that not only allows you set the speed at which the blinds will roll up, but also control the height at which they will stop. This brake-system comes without a hanging cord and can be controlled by the press of a button, which makes the installation and final product look even cleaner.
Roller blinds in Horwich come in a variety of fabric options and we don't mean in terms of just the design. You can get blackout fabrics that completely shut out outside light even in the middle of the day, or you could choose fire retardant fabric, that adds to the fire-safety of your home or commercial workplace. You can get wooden weave blinds or woven finishes as well, to match your furniture and décor while the combination of fabric with other elements like braids or pole or bottom rails adds the best final touch you can imagine to complete your room. Finally, if you choose to buy your window roller blinds from Bolton Sunblinds, you get to enjoy the fantastic Perfect Fit® system that guarantees a clean installation every single time. If you want to raise your home's design profile by a million notches with just one clean sweep, choose a roller blind from the fantastic range of products available at Bolton Sunblinds.