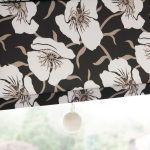 Fabrics for blinds in Worsley can be chosen from a wide range of gorgeous designs and colours. The new blinds for your home will add just the look you want. The trick is to find a fabric that meets all your requirements. The fabric should be pleasing to look at, appropriate for the type of blinds you are planning on, and it should be affordably priced. You can find all this and more when you pay us a visit. As the specialists for all types of blinds, we can assist you with the best fabric that will meet your exact requirements.
We have a huge range for you to choose from. In Worsley, fabrics for blinds are the first step for a brand new look in your home. Depending on the type of blind you have in mind, the fabric can meet that blinds requirements. For example, you could decide on roller blinds for parts of your home. Kitchens and studies benefit from the easy to use roller blind. The fabric choice for these types of blinds includes bold and bright colours. Or, if you prefer a muted look, choose a quiet restful colour. Additionally, block out fabric is suitable, especially for a roller blind in a bedroom. Perhaps you prefer Roman blinds to grace your windows. These blinds need a weighty fabric. However, velvet or damask would cause difficulty in retracting the blinds.
Fabrics for blinds in Worsley are available in a huge range. If you are uncertain about the best type for the blinds you have chosen, speak to our experts. Our knowledge and years of experience allow us to help you with the perfect fabric for your new blinds. For more details on how we can assist, contact Bolton Sunblinds today. Additionally, we can assist you with the right blinds for your home. Hence, speak to us about a site visit sow e can help decide on the best type of blind for your home. Additionally, you'll also find that our prices are competitive too. Thus, change the look of your interiors with the right blinds – and the right fabric!