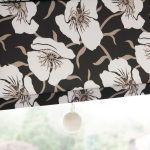 Wonderful selections of fabrics for blinds in Leigh are available through Bolton Sunblinds. We are also the manufacturer of the finest quality, longest lasting in the area and have been for decades. Blinds have always been a way to control the light in a room as well as privacy. The mostly white or wood look blinds were made to blend into your decor and serve their purpose without distraction. With the wonderful fabrics available today, our blinds now contribute to the decor and even set the pace. Whatever fabric you choose for your blinds make sure it has three qualities; dust resistant; non-fading colours; durability. That's what you will find at Bolton Sunblinds along with fresh designs, true colours and interesting textures.
Consider where your blinds will be used when selecting the fabric from which they're made. In Leigh, fabrics for blinds going into a conservatory will look great with our Perfect Fit system.  We recommend Perfect Fit Blinds with a speciality backing that conserves energy and enhances comfort both winter and summer. Child safe, versatile pleated blinds look great in any room but we can cut them to fit any shaped window, even the roof of conservatories, using our Perfect Fit system. They too have energy saving qualities. Fabric roller blinds complete your window fashion with matching or contrasting curtains or drapes. For bedrooms we can use a blackout backing so light doesn't filter through. Roman blinds need substance for luxurious draping and we offer many fabrics from light and airy cotton canvas to a classic traditional velour.
Our fabrics for blinds in Leigh and the blind mechanisms are guaranteed for five years. You won't find a guarantee like that anywhere else. We guarantee with confidence because we know the products and materials we use are all great quality. Our customer service is unsurpassed so expect full service from fabric and style selection, to measuring and hanging. You can also count on aftercare from us. We take care of everything; all you have to do is enjoy. Contact Bolton Sunblinds when shopping for window treatments for any and all rooms in your home. We offer a huge selection of blinds, shutters and curtains from which to choose. All are custom made to suit.