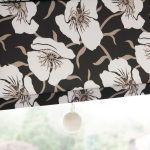 You can add luxury and practicality to your room with our high-quality Roman blinds in Chorley. Roman blinds are a luxurious alternative to regular blinds. They have soft fabrics with elegant styles and larger folds than conventional blinds. Our Roman blinds have blackout linings as standard to optimize their performance. Roman blinds provide the luxury of curtains combined with the practicality of blinds. Our fabric selections make these Roman blinds ideal for bedrooms, TV rooms and private spaces where you need to block out light. Yet, since they function as blinds, it is easy to control the flow of natural light into the room.
Our Roman blinds are favoured by people who work night shifts and need ample sleep during the day. In Chorley, our Roman blinds are top sellers in the summer. Our blackout linings come in handy for kids' bedrooms because they block out the light enabling them to sleep early on bright summer nights. The Roman blinds fabric also provides some insulation against the hot summer sun. Our Roman blinds have elegant styles, colours and patterns that complement several home designs. We have traditional floral patterns, rustic styles and bold solid colours for minimalist décor. Roman Blinds are easy to install and maintain. Our expert installation team can be in and out of your home within a short time.
If you are in the market for Roman blinds in Chorley, come to us. We have extensive experience in the home décor industry ad have been dressing windows since 1968. Our collection of Roman Blinds is second to none. When you choose our products and services, your satisfaction is guaranteed. Call Bolton Sunblinds today if you need the best Roman Blinds in the region. Apart from Roman blinds, we also have energy-saving, vertical, roller, pleated and Venetian blinds in our collection. We also supply and install high-quality shutters and made-to-measure curtains. While other companies offer 1-year guarantees on their blinds, we are proud and confident enough to offer five-year guarantees on our products and services.