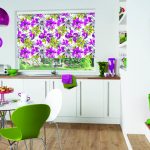 With our attractive kitchen blinds in Lostock, you can give your cooking area a bright and cheery look. We are a friendly, family business with more than half a century's experience in this sector. Choosing the right kind of blinds for any room can be challenging. But the right window treatment makes a big difference to your kitchen. They bring the right elegance, functionality and light control to your kitchen. These days, people tend to spend more time at home. They prefer to put in the right features that make it more comfortable and elegant. Your kitchen is one of the busiest spaces in your home. You need light control and privacy, along with comfort.
For your new look in Lostock, kitchen blinds should be of washable, easy-care, fire-resistant materials. This keeps your home safe and hygienic. While planning to install blinds, the first step is to analyse your unique requirements. Some clients don't cook every day, while some of them may not cook all their meals. With the addition of the newest gadgets and appliances, cooking has become more convenient, swift and clean. Whatever your schedule, your kitchen faces extremes of heat, steam and fumes. Regular cooking means that grease, fumes, smells and stains are a part of your kitchen environment. Any fabric in the kitchen will quickly absorb these and retain them. That is why it's important to select the right fabric.
If you don't use the kitchen much for heavy cooking, you can select more expensive and less practical kitchen blinds in Lostock. Cotton, wood or even sheer fabrics can add charm and grace. Clients who lead busy lives prefer blinds that are easy to unhook, wash and reinstall. You can also choose from a range of durable materials such as bamboo or aluminium. For more ideas and assistance, contact Bolton Sunblinds. Our team ensures that you pick the perfect size and dimensions. This is important because it gives a neat and compact look to the window. It also keeps it safe from flames or grease. Roman blinds are a good option because they are practical and easy to operate.