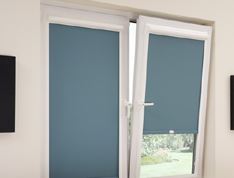 Perfect Fit blinds in Westhoughton are available to you from this family based team that has been operating since 1968. We can provide a 5 year guarantee on parts and manufacture on all products and will bring our mobile showroom to your home. The best blinds to fit to your home or office are Perfect Fit blinds which require no drilling or screws to hold them in position. They are fitted snuggly into the window frames and no potentially dangerous control cords and chains. The proximity to the windows helps to save energy which can be enhanced by using our energy saving fabrics which are placed on the outside of the blinds. This can save you up to 15 % on your energy bills. These blinds are perfect for doors and windows that open. We can fit your conservatory roof with perfect pleated blinds. To match the window blinds and have an exquisitely beautiful and elegant room. Frames come in 3 colours, white, brown or brushed steel.
In Westhoughton, Perfect Fit blinds come in various options, pleated, roller, Venetian and Roman. These differing styles come in a huge variety of colours and patterns to suit your decor or you can choose a completely new look and use it as the basis for a room renovation. Our staff are expert measurers, one of the most important tasks to enable your Perfect Fit blinds to sit properly in the window frames. Get a whole new look to a single room or your whole house and find out how simply and easily blinds are to install and maintain.
Perfect Fit blinds in Westhoughton are one of our most popular brands but we also have the most gorgeous inside shutters which provide extra ventilation on a hot day and keep the heat in on cold days. These control the light and provide privacy. Shutters are elegant and stylish and give a very different look to your rooms. There are loads of colours to choose from to suit your decor and furniture. They can be extremely elegant. We can make made to measure curtains or pole curtains amongst other window coverings. For more information about Perfect Fit blinds and other window treatments, contact Bolton Sunblinds.