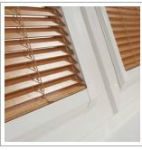 Wooden blinds in Westhoughton are as popular a choice as ever. The rich golden colours provide a warm, welcoming aura to any room. The wood for these blinds comes in many variations and offer excellent insulation properties. There are plenty of variations to choose from when looking to buy a wooden window blind and the stains and treatments blend in well with wooden flooring or furniture. The Bolton Sunblind Centre has many thrilled customers who love the look that the wooden blinds have brought into their homes and offices. The Centre offers myriads of choices for customers in terms of materials, colours and styles. If you want wood window coverings throughout your entire home, faux wood can be used to great effect in your kitchen and bathroom. Modern faux wood blinds are as genuine looking as natural wood and have captured all the rich warm tones of genuine wood.
In Westhoughton, wooden blinds are provided by Bolton Sunblinds. The talented team at Bolton Sunblind Centre have been dressing Bolton's windows since 1968. It is not surprising that most of their business comes from personal recommendations. One of the drawcards of this company is that, unlike their competitors, they offer an amazing 5 year guarantee on their products as apposed to just one. They have fully trained staff who come out to your place and they measure and fit your blinds expertly.
Wooden blinds in Westhoughton can offer you a variety of beautiful woods that bring a natural feel into your home. People can be overwhelmed by the sheer choice one has in blinds. With a choice of different wood types, the wooden blinds of The Bolton Sunblind Centre will suit any decor requirements of your home or office. You can also choose from some unique accessories to ensure your wooden blinds are trendy and stylish. For warm, natural wooden blinds, contact Bolton Sunblinds.