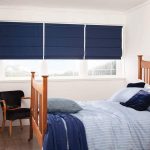 Bedroom blinds in Farnworth offer decorator solutions ranging from tastefully simple on their own to one component of an elaborate window treatment scheme. Our selection of patterns, textures and fabrics is extensive at Bolton Sunblinds as is our many styles of blinds. Some choose roller blinds, liking the old-fashioned touch. Perhaps they are remember those old yellowed roller blinds that hung lopsided at great-grandma's house. Either they wouldn't roll up at all or they would snap up quickly and scare you silly. We've had roller blinds that are much better for a long time now and they continue to improve with reliable and controllable operating mechanisms. They look beautiful in fabric that coordinates or matches the bedding and it's easy to combine them with drapes, a simple valance or nothing at all.  Late risers will prefer the blackout blinds.
Pleated blinds are ideal for bedroom use because the fabric pleats add volume and softness to the room without taking up space. As with roller blinds in Farnworth, bedroom blinds that are pleated are a wonderful choice for children's rooms. There are no hanging cords and easily cleaned. Choose pleated blinds in every colour and print imaginable. Insulating and room darkening options are available. Pleated blinds are probably the most popular blind because they can be made to fit any size or shape of window. Venetian blinds are popping up in homes and offices again. While they come in metal and every colour, the dark or white wood will be a good choice for the bedroom.
So how do you decide which style of bedroom blinds in Farnworth is right for your bedroom? Come visit us at Bolton Sunblinds and spend time visualising each style in your bedroom. Better still, you might contact us for an appointment and we will bring samples to your home. It's easier to choose when you are in the room you are decorating. Whichever style you choose; roller, pleated or venetian blind, they have commonalities. Any of them will work with our perfect fit system which frames the shade and fits, without screws, inside your window frame. All are childsafe. Manufactured from premium materials by our skilled crafters at Bolton Sunblinds, all are top quality and guaranteed. We fit them ourselves to make sure they are perfect.